Teeth whitening products are a great way to get a brighter and whiter smile. Whether you're looking for a quick fix or a more gradual, natural approach to whitening your teeth, there are plenty of options out there. From over-the-counter products like toothpastes and strips to professional treatments like teeth whitening trays and laser whitening, there are a variety of ways to improve the look of your smile. In this guide, we'll explore the different types of teeth whitening products and discuss the benefits and drawbacks of each.
Things to Consider when Choosing a Whitening Product
It is impossible to say which whitening products are the best as it really depends on your personal needs.  There are so many different types of whitening systems and it is a very personal choice as to what you will prefer and will suit you best.  I will now discuss some of the best whitening products that are available.
Whitening Systems
Over-the-Counter Whitening Strips and Gels. Whitening gels can be applied to the surface of your teeth.  Instructions may vary depending on the product and strength of the peroxide.  Initial results may be seen in a few days.  Whitening strips are thin strips, coated with a peroxide-based whitening gel.  They are generally very easy to use and good results can be seen within a few days.
Whitening Rinses. They are easy to use and can help to bleach the hard-to-reach areas. They may not be as effective as other products due to the short contact time with the teeth.  This is a great product to use after bleaching to keep your teeth white.
Tray-Based Tooth Whiteners. They involve bleaching trays that are filled with whitening gel and worn every day (or some can be used at night) for about two or three weeks.  These bleaching products should ideally be prescribed by a dentist but can be bought over-the –counter.  They are not very comfortable but you can expect a very good result.
Whitening pens. These are easy to use, small enough to carry with you and very convenient.  If you have specific teeth or areas which require bleaching, this may be your best option.
Do not undergo bleaching without consulting your dentist if you are pregnant, suffer from very sensitive teeth or allergies for the bleaching ingredients.  If you suffer from gum disease, worn enamel, cavities or exposed roots, you should get treatment and advice from your dentist before considering bleaching.  Keep in mind that tooth-colored fillings, crowns, veneers and bridges do not whiten and may need to be replace aver bleaching your teeth.  Keep your expectations realistic as very dark teeth (e.g. tetracycline stained teeth) may be hard to bleach and will probably benefit more from professional bleaching e.g. KoR whitening deep bleaching system.
---
Whitening Strips
Crest 3D White Luxe Whitestrips Professional Effects and 3D White Whitestrips 1 Hour Express – Teeth Whitening Kit
Crest 3D White Luxe Whitestrips is one of the most popular products on the market.  It removes years of teeth stains and delivers professional-level teeth whitening results.  The advanced Seal Technology's no slip grip stays put so you can talk and even drink water while whitening your teeth. Little formula spills over and you can still do things around the house while using it. The strip molds to the shape of your teeth and off cleanly.  You only need to use it for 30 minutes per day.  This kit also comes with 3D White Whitesprips 1 Hour Express (2 treatments) which removes years of stains in just one hour for a extremely fast, noticeably whiter smile.
Renbrandt Intense Stain Dissolving Whitening Strips
These strips are great as they dissolve completely in only 5 to 10 minutes time.  It is quick and doesn't need to be removed.  Rembrandt Intense Stain Dissolving Whitening Strips doesn't harm standard dental work. You should see noticeable results within two weeks. The directions is clear and easy to follow.
---
Whitening Rinses
Listerine Healty White Restoring Anticavity Mouthrinse
It is formulated to whiten without irritation and is peroxide free.  Listerine Healthy White Restoring Anticavity Mouthrinse is very gentle on tooth enamel while removing and preventing stains.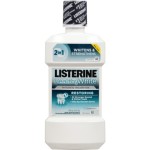 Crest 3D White Glamorous White Multicare Whitening Mouthwash
It whitens by removing surface stains and protects against future stains. It is ideal to use along with Crest 3D whitening toothpaste and toothbrush.  It doesn't harm the tooth enamel.
---
Tray-Based Whitening Systems
Thermo-molding Custom Fitting Whitening Trays
If your whitening product doesn't include the whitening trays, you will need to buy them separately. These are inexpensive and very easy to use.  Just boil and bite.
Opalescence PF15% Teeth Whitening syringes
Opalescense is also available in higher concentrations but keep in mind that you may get more tooth sensitivity with higher concentrations.  Opalescence whitens your teeth fast, safe and easy. They syringe contains 1,2 ml and has as shelf life of 2 years if stored in a refrigerator.
Philips Zoom Whitening
This is one of the most popular and widely used products. Philips Zoom DayWhite and NiteWhite offer superior at-home whitening with a beautiful white smile in seven to fourteen days.  Philips Zoom Whitening contains amorphous calcium phosphate to reduce sensitivity and protect enamel. It helps to improve the luster and smoothness of teeth.
Shine Whitening Professional Teeth Whitening Kit
Shine whitening removes years of stains in just a few treatments. It comes with trays that perfectly mold to your mouth, ensuring whitening exactly where you want it. It provides dentist grade results from the comfort of your home.  The trays can be cut to match the gum line and they also provide a Q-tip to maximize coverage over your teeth. Use only once a day for 5 to 15 minutes or even shorter if you have sensitive teeth. Shine Whitening – Zero Peroxide Teeth Whitening System is also available for sensitive teeth.  It is made from botanical ingredients in the USA and contains no peroxide.  They include a whitening LED light and retainer case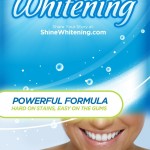 ---
Whitening Pen
Finishing Touch Smile Whitening Pen
This pen is small and convenient to take along with you.  You can apply it instantly and use it anywhere. Results can be seen in as little as two days.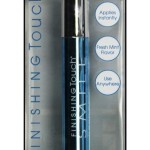 Just Pure White Teeth Whitening Gel Pen Kit – Zero Peroxide & No Strips
Made from all natural ingredients. It contains no animal products and is 100% Kosher grade and gluten free.  It is easy to apply as you can pinpoint particularly stubborn stains on individual teeth. The pen is small enough to slip into your pocket or handbag. This can actually improve the health of your mouth and strengthen your teeth due to the unique combination of natural ingredients.
---
Other great products to assist with teeth whitening
Oral-b Glide 3d White Whitening plus
This whitening floss helps prevent stains between teeth by removing plaque and prevent tatar build-up. It slides easily between tight teeth and is shred resistant.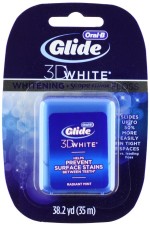 Remineralization Gel
This is essential for use after whitening treatments as it returns vital minerals and vitamins to your teeth, reduces teeth sensitivity and strengthens tooth enamel. This product will also help to reduce harm done by sugar and acids in your food.
In my opinion the above mentioned products are some of the best teeth whitening products currently available.  For best results, always consult you dentist for advise, as all products will not be suitable for everyone.
More great Teeth Whitening Products.