Philips Zoom Whitening products are very popular, well-know and have a wide range of products to cater for everyone's needs.
Philips Zoom's suggestion as to which product to use:
Very Dark Teeth
Four 15-minute sessions with Philips Zoom WhiteSpeed in-office, followed by two to four take-home treatments of Philips Zoom NiteWhite Maximum White.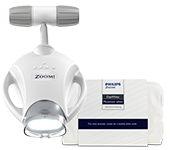 Medium Stains
Philips Zoom WhiteSpeed treatment will also be a good way to get a quick result.  They also suggest Philips Zoom DayWhite Maximum White which you only need to use a few minutes every day or Zoom NiteWhite Maximum White if you prefer a product to use while you sleep.
Light Stains
Zoom NiteWhite Quick is ideal if you want a white smile in only a few days time.  Zoom QuickPro  is a varnish, applied by your dentist in only a few minutes, and you can whipe it 30 minutes later.
Sensitive Teeth
Zoom WhiteSpeed used at medium or low intensity is an option, although I would rather suggest Zoom DayWhite Gentle for very sensitive teeth.
Your dental professional will advise you on which product to use and provide the custom made whitening trays.   Philips Zoom take-home products includes Carbamide peroxide or hydrogen peroxide, sodium fluoride, potassium nitrate and ACP
Maintenance
Zoom Whitening Pen: This pen is great to use if you want to make sure hour smile stays white.  It is ideal for light stain removals and touch-ups of specific areas.
Zoom DayWhite Touch-up is recommended for touch-ups after or between bleaching treatments. Philips Zoom QuickPro whitening varnish can whiten your smile up to four shades.  It only takes your dentist a few minutes to apply, and you can wipe it off 30 minutes later.  This product can be added to all your cleaning appointments. The most important maintenance product is a good electric toothbrush of which Sonicare DiamondClean is one of the best.
Light-activated whitening with Philips Zoom WhiteSpeed
How it works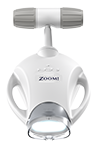 Philips Zoom WhiteSpeed uses a proprietary LED light to accelerate the whitening gel chemical reaction.
You may be advised to use Ibuprofen an hour before the procedure.  The dentist will start with an application of vitamin E to your lips and a protective barrier to cover your gums.  The Philips Zoom WhiteSpeed in-office whitening gel will be placed over the teeth and the lamp positioned near your teeth.  After 15 minutes the gel will be replaced with a new coating and this will be repeated four times.
Your dentist may provide you with a take-home whitening gel and custom trays to whiten the teeth some more.  It is also advised to use Relief ACP Oral Care gel to relieve any potential tooth sensitivity.
Is a Light or Laser necessary for Teeth Whitening?
A lot of people may think that they will get much better results if their dentist used a fancy light or laser during their bleaching procedure.  Many studies have shown that the light did not achieve better results in the long run than bleaching chemicals alone.  The slight difference in tooth color observed as a result of bleaching with lights and hydrogen peroxide versus hydrogen peroxide alone appears to be temporary and caused by the light's dehydration and heating of the teeth.  After a few days, there appears to be no significant shade difference between teeth bleached with lights and those bleached without.  The benefits of the light may be mainly a psychological factor as the patients believe they will get better results.